Rallies held in Venezuela on anniversary of revolution
Pro and anti government demonstrations held in Caracas on 20th anniversary of Chavez's Bolivarian Revolution
03.02.2019 - 13:24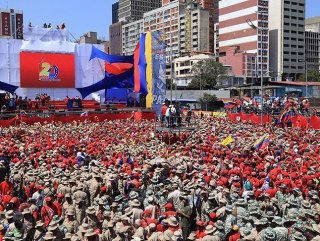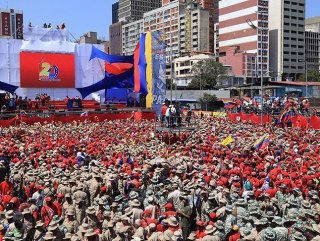 Demonstrations continued in the Venezuelan capital on Saturday with a pro-government rally on the 20th anniversary of the country's Bolivarian Revolution led by former president Hugo Chavez.
Thousands of Venezuelans along with a number of pro-government labor unions, political organizations and civilian militia forces attended the rally organized by President Nicholas Maduro's ruling United Socialist Party of Venezuela (PSUV) in Caracas amid one of the deepest political crises in the country's history.
Separately, protesters against Maduro's government also returned to the streets, with self-declared interim president Juan Guaido announcing three entrance points for future humanitarian aid coming into the country.
"Today there is an international coalition supporting freedom and humanitarian aid in Venezuela," Guaido said at a demonstration against Maduro's government.
He added that relief would be brought in via the town of Cucuta on the country's border with Colombia as well as a point in Brazil and an island in the Caribbean.
Underlining that relief would be made available to those most in need first, Guaido asserted that the lives of 250,000-300,000 Venezuelans were at risk.
On Friday, U.S. National Security Advisor John Bolton announced on twitter plans to send "medicine, surgical supplies, and nutritional supplements" to the country following a request by Guaido.
National Assembly president Guaido called fresh protests on Saturday to demand Maduro to cede power after a week of sporadic mass protests. The last round of demonstrations took place Wednesday.
The U.S., Canada and most Latin American countries have recognized Guaido as the legitimate leader of Venezuela, but Maduro has so far refused calls to step down.
He has accused the U.S. of orchestrating a coup against his government but said he is open to dialogue with the opposition.
Russia and China both opposed the U.S. call to support Guaido, and condemned any international interference in the affairs of Venezuela. Turkey and Iran have also put their weight behind Maduro.
The U.S. has led an international campaign to apply economic and diplomatic pressure on Maduro, including sanctioning on Monday the country's state-owned oil company and a joint venture with its Nicaraguan counterpart.