Thousands march in Belgrade in anti-government protest
Tens of thousands of demonstrators gathered under the slogan "One in five million" for the ninth time in the capital
03.02.2019 - 13:23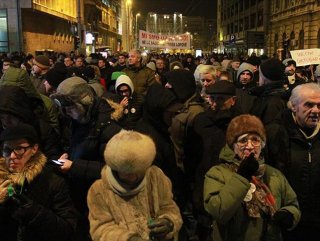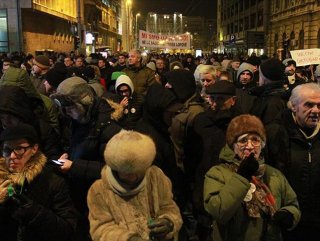 Thousands of citizens of Serbia gathered for the ninth time in row in the capital Belgrade to protest the government.

Tens of thousands of demonstrators went down the streets of the capital to express their dissatisfaction under the slogan "One in five million".

The so-called "1 of 5 million" protests started on December 8, 2018 after an incident on November 23, when an opposition politician, Borko Stefanovic was attacked and beaten in the southern town of Krusevac.

Saturday marks the ninth regular protests in a row in the capital Belgrade.
ANTI GOVERNMENT PROTEST

An extraordinary one was held on January 16, when protesters marked the first anniversary of the unresolved murder of the Kosovo Serb politician, Oliver Ivanovic, in Kosovska Mitrovica, Kosovo.

Protests were only planned to be held in Belgrade but in January people in more than 30 other cities and towns joined the movement with their own protests.

About 20 cities and towns have announced they will hold rallies in February, according to the organizers.
One of the biggest cities such as Nis, Novi Sad, Kragujevac, Vranje, Cacak, Mladenovac, Pozarevac and Uzice have already organized protests.
Regular protests began at 6 p.m. at the Students Square in the centre of Belgrade. After the speeches, the crowd marched to the parliament, the presidency, the public broadcaster, RTS, and sometimes the government buildings. 

Protesters carried banners saying; "Awake Serbia", "Vucic down, capitalism down" and "We're with the people".

"Protest Against Dictatorship" is the group formally organizing the protest.

The same group was organizing mass protests earlier after Aleksandar Vucic, the Serbia's current President was elected in 2016.

Meanwhile, many members of the opposition parties also participated in the protest.

The key demands are better control of the election process and campaigns and criminal sanctions against those that abuse the campaigns.

Also the resignation of the Interior Minister, Nebojsa Stefanovic for allegedly insulting the protesters, is one of the demands among other things.

They also want resolving the case of the murder of Kosovo Serb politician Oliver Ivanovic.

Moreover, they are demanding representatives of the protests to have five minutes on the main news show of the public broadcaster, RTS, and the more regular presence of opposition politicians on RTS.

Meanwhile, Vucic insisted that he will not give in to "blackmail from opposition politicians" but has added that he is willing to meet and hear from citizens who are not satisfied with his rule. 

Vucic also said that if the opposition wants snap elections, he is ready to go so and, if he loses, he is ready to leave all of his duties.

However, opposition parties in the Alliance said they will not participate in snap elections.