Issues with Greece can be solved equitably, says Erdoğan
Turkey expects Greece not to become 'safe haven' for FETO, other terrorists, says Recep Tayyip Erdoğan.
06.02.2019 - 09:33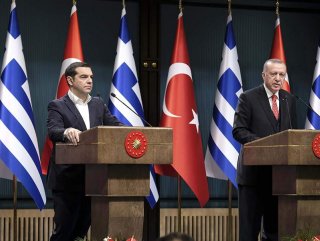 Greek Prime Minister Alexis Tsipras met with President Recep Tayyip Erdoğan for talks to ease tensions over bilateral disputes and the long-running Cyprus problem.
"

GREECE MUST TREAT THE FUGITIVES APPROPRIATELY"

"Our expectation from Greece is that it doesn't become a safe haven where FETO, PKK, DHKP-C terrorists take refuge," Recep Tayyip Erdoğan said during a joint news conference with Greek Prime Minister Alexis Tsipras in Ankara. Erdoğan once again reiterated Turkey's expectations on the extradition of FETO coup plotters from Greece.

Stating that they had the chance to discuss bilateral relations as well as international and regional issues during the meeting, Erdoğan added: "As Turkey, we desire to improve bilateral relations in every field with our neighbor Greece." He noted, however, that trade and economic relations between the two countries were not at the desired level. "We hold our trade volume at a level of €3.5 billion today, but it isn't the desired level between Turkey and Greece," he said.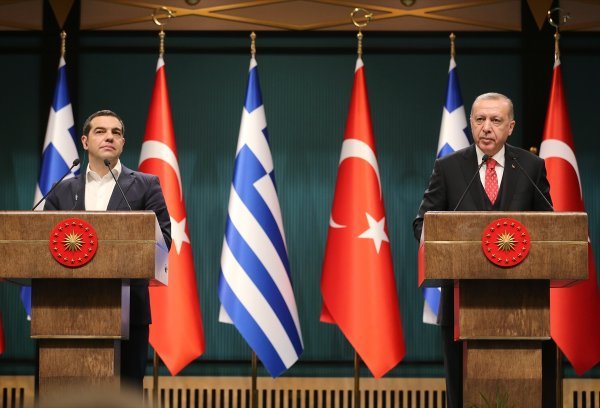 Erdoğan said the pair discussed the completion of some bilateral projects, including passenger and goods ferries between Izmir and Thessaloniki, a high-speed rail link between Istanbul and Thessaloniki and the construction of a river bridge between Kipoi in Greece and Turkey's Ipsala.
"ANY ISSUE CAN BE RESOLVED THROUGH DIALOGUE"
Noting that any issue could be resolved through dialogue between Turkey and friendly countries, Erdogan said: "Our cognates living in Greece and Greek-origin citizens living in Turkey are not a means for dissolution, but for cooperation." He added that Turkey has shown every effort to further improve the condition of Greek-origin citizens and expected the same gesture from Greece.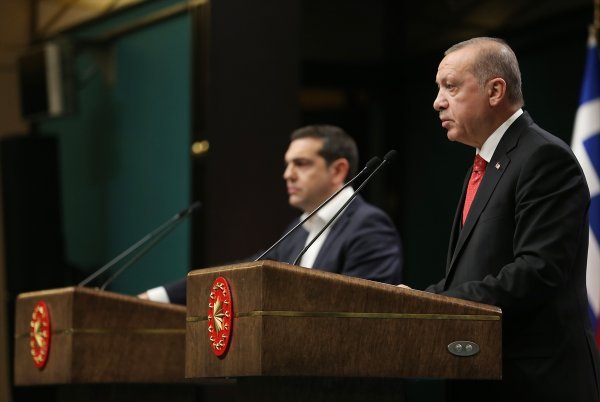 TSIPRAS AGREED TO BOOST COOPERATION
Greece's Tsipras said their dialogue with Turkey is "sincere" and "special" and stressed that they managed to build a positive agenda in Turkish-Greek relations.
Tsipras stated that they decided to take further steps for the future together with Erdogan and said Greece "will not be doomed" to regional problems and tries to find solutions through dialogue with Turkey "We agreed with Turkey to boost cooperation on security issues," he added.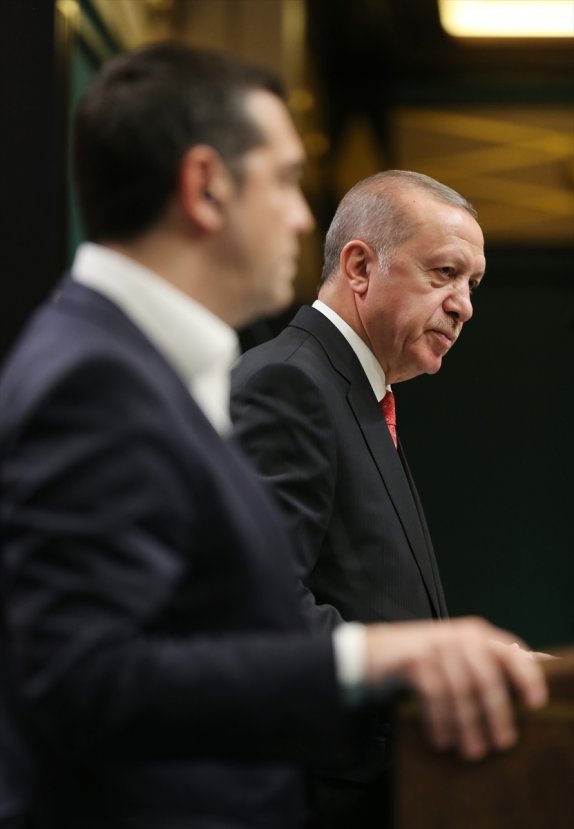 Tsipras said Turkey and Greece agreed to decrease tensions in the Aegean Sea and to take confidence-building steps. "I am glad to have open communication channels with President Erdogan. We can thus take more constructive steps."
Speaking also on the extradition of FETO coup plotters from Greece, Tsipras said Greece as a state of law has to respect the decision taken by the judiciary. "Of course, Greece does not like to accept coup plotters. At this stage, Greece and Turkey need to strengthen their cooperation on security," Tsipras added.