France's CGT union calls for a 24-hour strike
French trade unions and Yellow Vest protesters have launched a national day of strikes as Emmanuel Macron's government looks set to pass new laws to crack down on demonstrations.
06.02.2019 - 10:29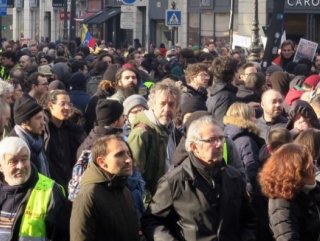 A general strike is taking place in Paris, affecting some tourist sites and local schools, after union CGT called for a march for buying power and a fairer taxation system.
The CGT, which is against President Macron's current Grand Débat proceedings, is being supported in the strike by other unions and left-wing groups including Solidaires, the NPA, PCF and FI.
France's CGT union calls for a 24-hour strike WATCH
Workers, public servants, and retired people were also invited to march.
Speaking of the strike, Secretary General of the CGT Philippe Martinez said: "When we begin to restrict individual and collective freedoms and our fundamental right to manifest, we are on a dangerous road."
The CGT tweeted today: "For social and fiscal justice, for salary increases, for our jobs, for social security, for our pensions."
Yellow Vest protesters, who demonstrate against Macron's policies, have continued despite Macron's efforts to hold a national debate in town hall-style meetings across France.