Juncker seen stumbling at NATO event
President of the European Commission Jean Claude Juncker was seen being supported by other leaders.
13.07.2018 - 15:50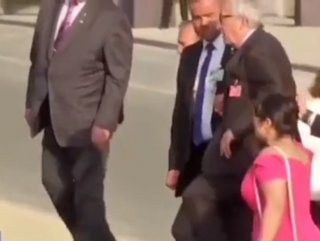 The European Commission President, Jean-Claude Juncker, lost his balance several times ahead of a gala dinner at the Brussels meeting on Wednesday.
Footages showed Jean Claude-Juncker repeatedly stumbling at the NATO summit.
Juncker has seen stumbling at NATO event WATCH
Juncker's footages caused speculations that he was drunk. Juncker has said that he has sciatica, which sometimes affects his movements. The 63-year-old Juncker still continues his presidency of European Commission.