New Istanbul Airport to boost Turkey's aviation sector
General Directorate of State Airports Authority stated that the Turkish aviation industry expected to rise 27.5 percent in next 3 years.
07.07.2018 - 17:30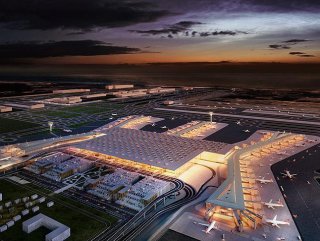 The number of passengers, including those on direct transit is expected to increase by 13 percent to reach around 219 million this year, compared with 193.6 million passengers last year, according to the General Directorate of State Airports Authority (DHMI) data.
The authority forecasts over 230 million air passengers next year and a rise of 27.5 percent, year-on-year, to reach nearly 250 million in 2020. The largest increase will be seen in passengers on international flights -- around 29 percent -- to reach 107.7 million in 2020, compared with 83.5 million passengers last year.
PASSENGERS WILL RISE AROUND 2.25 MILLION
Domestic flight passengers were expected to rise to nearly 140 million -- a 26.6-percent increase -- compared with 110 million last year, DHMI said. Air traffic, including transit overflights in Turkish airspace, is projected to reach over 2.5 million this year compared with 1.91 million in 2017 -- eventually rising to around 2.25 million by 2020.
Air cargo transportation across Turkey was around 3.5 million tons last year. It is expected to reach 3.8 million tons this year and 4.2 million tons in 2020. The third airport in the city will be the world's biggest project built from scratch upon completion. The first phase of the new airport -- 90 percent of which is already completed -- is expected to formally open on Oct. 29. In the first phase, the airport will welcome 90 million passengers annually.
ISTANBUL WILL BECOME A GLOBAL CENTER
In the second phase, which is expected to complete in 2023, it is projected that the number would rise to 150-250 million. Underscoring that Istanbul's new airport is "highly significant for the future of Turkey", President Recep Tayyip Erdogan in 2015 said: "With the completion of all phases of this project, Turkey, especially Istanbul, will become a global center in world's air traffic." After the launch of the new airport, Ataturk Airport on the European side of the city will be replaced by a huge park named 'People's Garden', Erdogan announced earlier.
A total of 1.38 billion people have passed through the country's airports during the last 10-year period -- 2008 to 2017, the DHMI data shows.