Turkish opposition leader gets attacked
Turkish Republican People's Party leader got attacked during a military funeral.
21.04.2019 - 14:38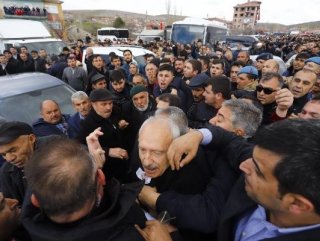 The leader of Turkey's main opposition Republican People's Party (CHP) Kemal Kılıçdaroğlu has been attacked by a group of people at a martyr funeral in Ankara.
CHP LEADER'S HEALTH STATUS IS GOOD
CHP leader Kılıçdaroğlu was attending the funeral of 26-year-old infantryman Yener Kırıkçı on Sunday.
Kılıçdaroğlu has been taken to a house by police. The crowds have thrown stones at the house.
CHP leader was removed from the house safely under safety measures.
Kılıçdaroğlu's health status is good.
Turkish opposition leader gets attacked WATCH