Turkish Army marks the 44th anniversary of peace operation
Turkish military releases video commemorating those martyred during the intervention in 1974.
20.07.2018 - 11:16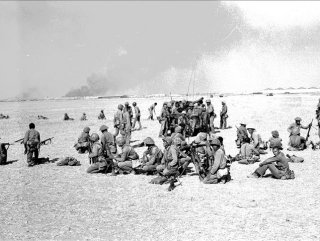 Turkish Armed Forces on Friday marked the 44th anniversary of Turkey's military operation conducted to protect northern Cyprus's Turkish population.
Turkish Army marks the 44th anniversary of peace operation WATCH
Friday marks July 20 Peace and Freedom Day in the Turkish Republic of Northern Cyprus, which commemorates Turkey's 'Cyprus Peace Operation' -- a huge military intervention to protect Turkish Cypriots from inter-communal violence which struck the island in 1974.
498 MARTYRS, 1200 VETERANS
In a Twitter post, the military wrote: "We commemorate our martyrs and veterans with mercy and gratitude on the 44th anniversary of Cyprus's Happy Peace Operation." It also released a video showing the operation conducted 44 years ago.
Cyprus has been divided since 1974 when a Greek Cypriot coup was followed by violence against the island's Turks and Ankara's intervention as a guarantor power. The latest attempt to reunify the long-divided Mediterranean island ended in failure in 2017 after two years of negotiations.