Turkish court accepts indictment on Russian envoy murder
FETO terror organization, group behind the defeated coup, planned assassination as a provocation to sow chaos, says the indictment.
08.12.2018 - 11:48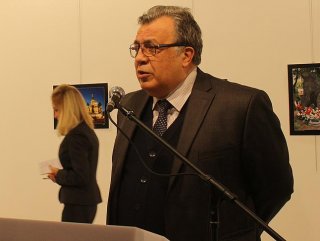 A criminal court in Turkey's capital on Friday accepted an indictment stressing the FETO terror group's involvement in the December 2016 assassination of Russia's ambassador to Turkey.
The indictment recommended various jail terms -- including aggravated life sentences -- for 28 suspects, including Fetullah Gulen, the leader of the Fetullah Terrorist Group (FETO), on charges such as violating the constitutional order, armed terror group membership, and murder with terrorist intent.
"A PROVOCATION TO HARM TURKISH-RUSSIAN RELATIONS"
Underlining FETO's involvement, the indictment states that the group plotted the murder -- originally planned for June -- as a "provocation" to harm Turkish-Russian relations ahead of the defeated coup of July 2016 as well as to sow chaos in Turkey.
It said the terror group originally plotted the assassination for June 27, 2016 at an iftar (fast-breaking dinner) program for foreign dignitaries, but called it off when Karlov was unable to attend.
While not disclosing the direct involvement of 12 of the suspects, the indictment recommended their trial on charges of armed terrorist group membership.
The trial is set to begin on Jan. 8.