Communal tensions flare in Sri Lanka
As mourners buried the remains of Christian worshippers killed by the Easter Sunday suicide bomb attacks in Sri Lanka, hundreds of Muslim refugees fled.
25.04.2019 - 12:24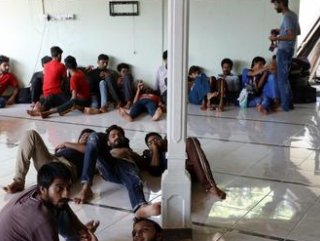 At least 359 people perished in the coordinated series of blasts targeting churches and hotels. Church leaders believe the final toll from the attack on St Sebastian's Church in Negombo could be close to 200, almost certainly making Negombo the deadliest of the six near-simultaneous attacks.
MUSLIM REFUGEES FLEE THE REGION
On Wednesday, hundreds of Pakistani Muslims fled the multi-ethnic port an hour north of the capital, Colombo. Crammed into buses organized by community leaders and police, they left fearing for their safety after threats of revenge from locals.
"Because of the bomb blasts and explosions that have taken place here, the local Sri Lankan people have attacked our houses," Adnan Ali, a Pakistani Muslim, told Reuters as he prepared to board a bus. "Right now we don't know where we will go."
Islamic State has claimed responsibility for the attacks, yet despite Islamic State being a Sunni jihadist group, many of the Muslims fleeing Negombo belong to the Ahmadi community, who had been hounded out of Pakistan years ago after their sect was declared non-Muslim.
The fallout from Sunday's attacks appears set to render them homeless once more. Farah Jameel, a Pakistani Ahmadi, said she had been thrown out of her house by her landlord.
"She said 'get out of here and go wherever you want to go, but don't live here'," she told Reuters, gathered with many others at the Ahmadiyya Mosque, waiting for buses to take them to a safe location.